REPAIR ORDERS - PHASE 2
Due to inventory limitations at this time, Tracks Hobbies is only repairing vehicle brands that are currently being sold in the store (i.e., Traxxas, Arrma, ECX, Losi, Axial, and Vaterra).  We are typically able to assist with universal electronic issues as well.
TO SETUP A REPAIR ORDER, PLEASE ADHERE TO THE FOLLOWING PROTOCOL:
STEP 1:  Come into the store to get your Repair Order started.  You will be asked to for the following information:
a.)  Your name and phone number.
b.)  Indicate what type of vehicle it is (i.e., Slash, 4X4, brushed motor).
c.)  Describe what is happening with your vehicle, to the best of your ability. 
STEP 2:  We will write up your Repair Order based on information provided.  No payment will be due at this time.  
STEP 3:  Remove all batteries from the vehicle, as well as any other lose components not needed for testing.
STEP 4:  Bring in your vehicle, plus transmitter/radio and gently place it on the counter at one of our Service Centers stations. If both Service Center stations are occupied, please remain patient until one is available. You may place your vehicle on the floor tile while you wait. Please do NOT leave your vehicle unattended!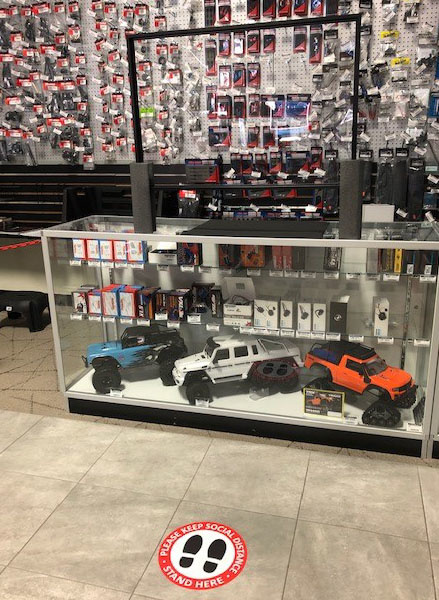 STEP 5:  Once we briefly review your vehicle and discuss your needs, we will solidify a plan and finalize the check-in process by providing you a Claim receipt.
STEP 6:  We will contact you with questions and updates during the repair process, as needed.  
STEP 7:  We will notify you when your repair is complete and indicate when you may revisit the store to submit payment and claim your vehicle.  If you have provided your email address to us, you will receive an email copy of your receipt. Otherwise, you will receive a printed copy.
STEP 8:  Please plan to pickup your repaired vehicles during our Phase 2 posted business hours.