AMP CAMP
The AMP CAMP will take new hobbyists through the process of assembling, configuring, and installing the necessary components to create a fully-functioning, hobby-grade, remote control (R/C) AMP MT vehicle. Attendees will explore 'best practices for building, testing, and operating their vehicle in a safe and effective manner. Participants will also be provided expert tips and techniques in maintaining their vehicle to maximize the potential for years of R/C fun and enjoyment.
Check out our media segment on AMP Camp by clicking the picture below!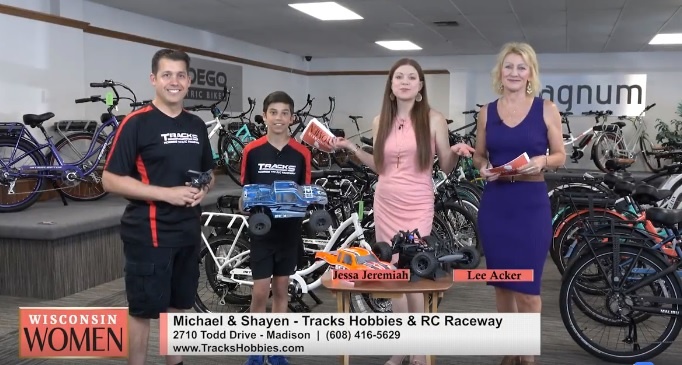 RECOMMENDED AGE: 10-14 years old (other ages welcome with Instructor approval)
COST: $275 
During the winter, Tracks Hobbies only schedules AMP Camp Sessions based on request.  If you are interested in the class, please contact us to be put on a notification list.  When we have enough interest to run a camp, we will add a session to the calendar and follow-up to let you know.
SESSION DATE: Although sessions are not scheduled during the school year, we do run them when there is enough interest!  Call the store to get your participant on the list and we'll reach out to you when a call is scheduled!
REGISTRATION INCLUDES:
     ♦  AMP Monster Truck (MT) Kit
     ♦  Instruction and materials
     ♦  AMP Camp T-Shirt
INSTRUCTIONAL TOPICS:
     ♦  Building the Steering Electronics
     ♦  Building the Front Suspension
     ♦  Building the Front Steering
     ♦  Building the Rear Suspension
     ♦  Building the Drivetrain 
     ♦  Finishing the Suspension
     ♦  Building the Chassis Attachments
     ♦  Building the Power Electronics
     ♦  Building the Rear Suspension
     ♦  Finishing the Kit
     ♦  Finishing the Body Shell
     ♦  Configuring the Remote Control (R/C) System
     ♦  Testing the R/C Vehicle Operation
COURSE REQUIREMENTS:
Participants must be able to attend all Class Sessions. In the event of an unexpected absence, participants are encouraged to complete the missed assignments prior to attending the next Class. Although participants will be required to complete missed tasks independently, Tracks Crew will provide in-house assistance as needed.
REGISTRATION LINK IS LOCATED BELOW.  YOU WILL NEED TO ADD BOTH THE CAMP AND THE FREE T-SHIRT TO YOUR CART.